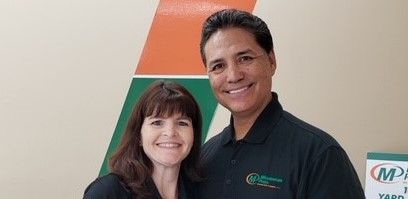 We are small business owners Alana and Ramon, and are strongly committed to providing you excellent customer experiences.  Together with our talented Team, we are proud to welcome and serve you.  We strive to provide you outstanding quality, timely completion of jobs, and strong reliability.  We are committed to making you and your business look great!  Allow us to be your trusted printing partners!  WE CARE!
Our Team of talented people are highly engaged to deliver exceptional customer experiences.  Ali is a highly skilled and experienced Graphic Designer with experience as a Production Artist and Customer Service Representative.  Paula is our professional and dependable Customer Service Representative, who also helps as a Production Artist when needed. Daniel adds the finishing touch and quality as our Production Artist, and he is also an accomplished Graphic Designer.  Our newest team member is Cheri, an accomplished Graphic Designer who will also serve as Customer Service Representative and Production Artist. Yes, we cross train!  Ramon Benjamin(RBJ) and Nic, our sons, also help out when available!  We often have a Graphic Design Intern on staff also!  The Team works together in all phases to make wonderful customer experiences.  Every department is everyone's department.  We are proud of the Team developed to serve you!  WE CARE!
If there's one thing we've learned over the years, it's that no amount of technology can replace the human touch. That's why we hire only the most qualified individuals to serve on our team. We look for people that share our philosophy that your business is our business.  We do, however, apply a great deal of technology into our business to create efficiencies that benefit you, our number one priority.  WE CARE!
Our team of diversely skilled professionals continually push themselves to learn and evolve so that we may help you conquer each new challenge on the road to success. Every person on our staff is committed to providing you with the best possible customer service and the highest-quality products. This commitment is reflected in everything we do.  WE CARE!